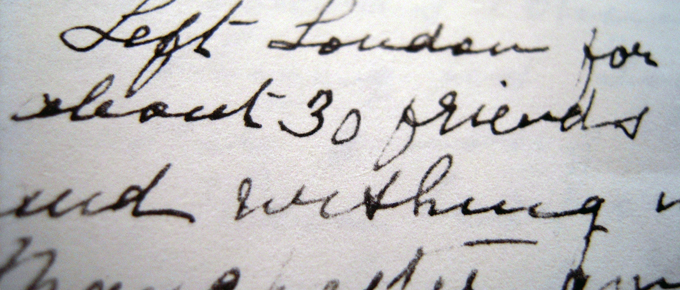 It is 103 years to the day since Sarah Talent, the matriarch in The Skating Party, left England to travel via the Trans-Siberian railway to China. She was 64 years old and this was to be her first trip outside Europe.
According to her hand-written diary, Sarah left Victoria station in London at 8.30pm on Wednesday, 21st October 1908 in the company of a Miss Roebuck and Reverend J Hedley who were to be her travelling companions for the 17-day journey. Her son, Charlie, accompanied her down to London from Manchester, and about 30 friends were at the station to see the group off 'wishing us God speed'.
From London, the trio travelled by train to Queenborough on the Isle of Sheppey in Kent to catch the nightly ferry service to Flushing (Vlissingen) in the Netherlands, where they arrived the next morning at 5am.
The night was not a happy one though the berths were very comfortable – the sea was choppy and that quite spoiled the pleasure, making Miss R  & myself sick, so we got no sleep. We disembarked by the light of the tiny moon and brilliant stars but the wind was biting cold at Flushing.
In addition, Sarah discovered she had left one of her bags on the train at Queenborough and had to send a telegram back to England asking to have it forwarded on, 'for which we shan't see until Moscow's reached - if then'.
All in all, not a very auspicious beginning to the long journey. The travellers took breakfast on the train and were soon heading through Holland and Germany to Berlin.